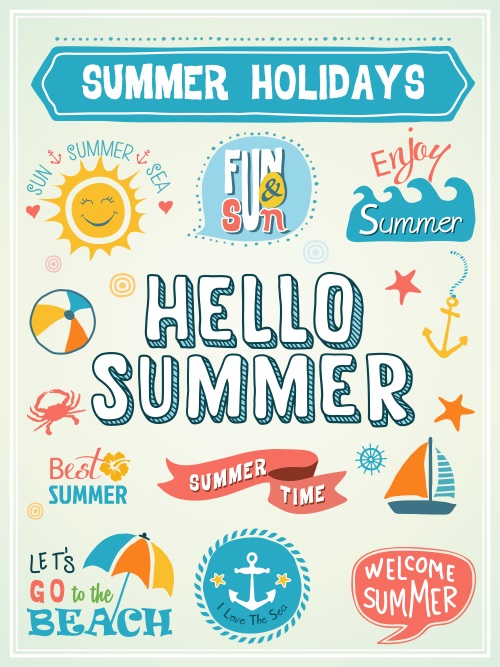 Summer fun is right around the corner. In my head are ideas of hanging out at the pool, summer nights on the back porch, and family fun time. I know from experience that the summer can fly by and before I know it, another school year is upon us!
Summer School Term
I decided this summer that I would make a "summer school term" with me as the student! Here are 2 ideas from many on how to accomplish this goal. Feel free to come up with your own strategy to ensuring the fun! The real bonus comes next year when I can copy my lesson plans of summer fun and be done in a snap!
Option 1: Make a Family Fun Class
Create a class called Summer Family Fun, make lessons (picnic, beach trip, water balloon fight) of all the ideas. Put anything and everything your family enjoys doing or haven't done in awhile.
Option 2: Create Multiple Family Fun Classes
Create multiple classes with specific fun activities: swimming, camps, park days. Lessons would be tailored for that class, like the names of parks and pools/water parks we want to visit this summer or camps offered by museums, zoos, sports clubs, and schools.
My Choice
I'm choosing option 1 this summer and assigning dates to the fun. Using dates will put it on the My School Year calendar, and then I will also receive email reminders. The reminders will help me to make sure it happens, and I don't want to miss out on family fun opportunities.
You can also delay on using dates and just have a list to review and assign dates as you go along during the summer or not use dates at all. Choose what best fits your personality! Remember dates can be changed!
Other Summer Class Ideas
You can also make summer classes for your students with math drills, science experiments, and good habit training. Shh! Let's pretend you didn't get that idea from me! I'm sticking to the fun for this summer!!!
Will you be joining me in making a summer plan for fun? If so, leave comments as to what your summer fun "lessons" will be.