Organization is not only possible, but fun and easy with your membership. Here are a few tips & tricks that make organization fast and simple.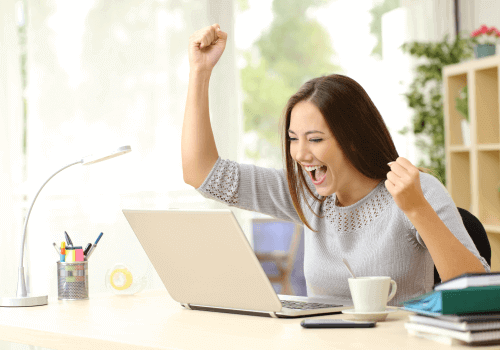 Student Logins
Give your students access and let them enter their grades or mark completed assignments. My little kids think this is quite fun. Older kids enjoy the feeling of accomplishment. You can give each child varying levels of access and control as well as have the system provide "alerts" when they make changes/updates. For example, a younger child can get "complete only" access to lessons, while teens can enter in grades as well. For more details, learn more about student logins and then check out this post for an in-depth "how-to".
Mobile Devices
Open up your account on your phone and easily make the updates for the day. When you finish grading a test, enter in the grade immediately on your tablet or phone.
Quick tip: If you receive the daily or weekly lessons in PDF, scan in the QR code and your browser will automatically open that lesson to update. It so SO quick!
Don't forget, ANY RECORD can be recorded on the phone. You can easily enter in an Extra Curricular Activity while doing it; log an Event while they are participating; and/or record a completed book while waiting for a doctor's appointment.
Also, enter any upcoming appointments into the system while making the actual appointment. We'll send you a daily/weekly reminder for that too!
Daily/Weekly Emails
Set up your account so that you and/or students can receive the daily/weekly emails of everything scheduled: lessons, appointments, events, and extra curricular activities. Some members print this email and work through it like a checklist. Others click on the links for each entry (like lessons) and mark complete or enter associated notes. Still others use the QR codes as mentioned previously. Whatever works fast and efficient for you and your students is the best way.
Alerts
That cute orange button at the top left of the website with the number in it is your friend. Think of it gently reminding you about activities, volunteer work, events, reading among other items that you want to make sure gets accounted. You can quickly "delete" or "fix" items in your alerts, and easily filter alerts to focus on a particular child.
Great, but that's not me!
Ok, so some of you may be slacking (or perhaps being pressed for time because we all know homeschool moms have ample free time…wink wink). You haven't put in grades, you haven't marked completed assignments, and you still have yet entered in those volunteer hours. Don't worry you can still do it.
You might find it easier to make updates at the end of the day or week.
Quick tip: Enlist your kids to help in the process so it isn't all on you.
Use some of the helps when you have some spare time, and you will be caught up quick and easy. It will be refreshing AND motivating to visit the Homeroom and see the progress bars that show you exactly where you are in your school year. It will be a boost to see how much you have accomplished, usually a lot more than you thought.
Added bonus: Your kids won't have to ask, "How much more?" because they will be able to know their status in each subject as well as their current grades.
Staying organized doesn't have to be an unpleasant chore anymore! Staying organized is quick and easy with your membership working for you!
How do you use your membership that helps you stay up-to-date and organized?