Learn more about the My School Year Homeschool Record Keeping release that occurred on April 14, 2018.
Transcript Display Updates
What is it? Transcripts now have more display customization options.
How it works. On the Transcript options page, you can now control the following display options (hide or show):
Date of Birth
Grade Level (e.g. 1st, 2nd, etc.)
Term Dates
Page Numbers in footer
Dual Credit School Name
Add-On Text
What is this for? Because of the variety of needs homeschooling families have, the Transcript display options have been developed to meet those needs.
For Add-On Text, these fields are used for entering any other information you may require for your transcript. For example, you can enter in standardized test scores like SAT or ACT.  Additonally, you can enter multiple tests and scores. We recommend separating names and scores with a slash (/). For example, label is "SAT/ACT" while value is "1470/33".

Standardized Test Score Tracking
What is it? Standardized Test score tracking now includes 4 more sections for tracking.
How it works. You can optionally enter 4 additional test sections for recording and reporting, section #7 through 10. All recorded information will appear on the report.
What is this for? Primarily, because the PSAT has  changed, so more "trackable" sections are now available.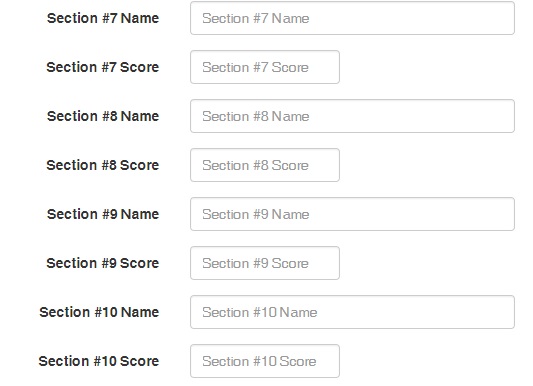 Custom Weightings – Class Grades In Use
What is it? The Edit Class Details page now highlights which Grade Types are in use when you do Custom Weightings.
How it works. A button – "View Grades" – appears next to each Grade Type that has any completed lessons associated with it. By clicking "View Grades", you can view all the lessons/grades associated with that Grade Type.
What is this for? The visual cue and button allows you to more easily see which Grade Types are in use in case you need to make any adjustments.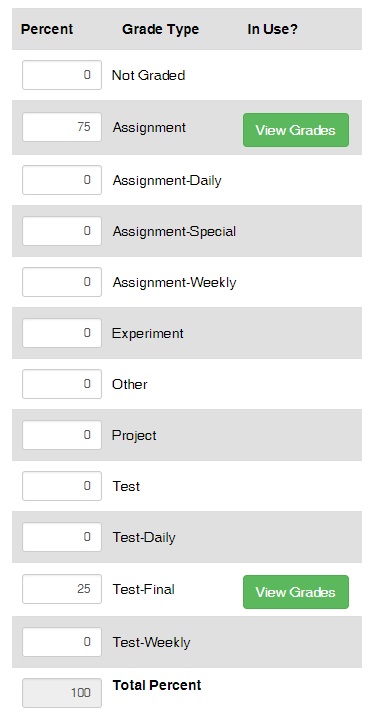 System Adjustments
In every software system in the world, the need to make tweaks will always exist. Since some of you may have encountered these "un-documented features" (e.g. bugs), here is a list of items corrected.
You can now change your Email Address associated without your account with having to contact the Support Team.