Learn more about the My School Year Homeschool Record Keeping release that occurred on March 14, 2018. Because this release contains so many feature upgrades, this post is part 2 of a 2 part series. Click here for Part 1.
Create-A-Plan – Advanced Rapid Repeat – Repeat Until Term End

What is it? When generating lesson plans using Create-A-Plan Rapid Repeat Advanced, the system can automatically determine the "Ending Lesson #" so that every scheduled class day has a lesson.
How it works. This feature works for both "Dated" and "Non-Dated" lesson plans.
For both "dated" and "non-dated" options, there are 2 scenarios. First, if you are generating lessons BEFORE the term has started, then the system will calculate the number of lessons between Term Start Date and Term End Date. Second, if you are generating lessons DURING the term, the system will calculate the numbers of lessons between the current day and the Term End Date.
What is this for? Many lessons, chores, tasks need to be planned out for the entire school term. This option removes the need to know exactly how many school days are in or are left in the term. Also, if you change or add a new curriculum mid-year, you can easily schedule out the lessons for the remainder of the term.
Planbook: Search by Lesson Name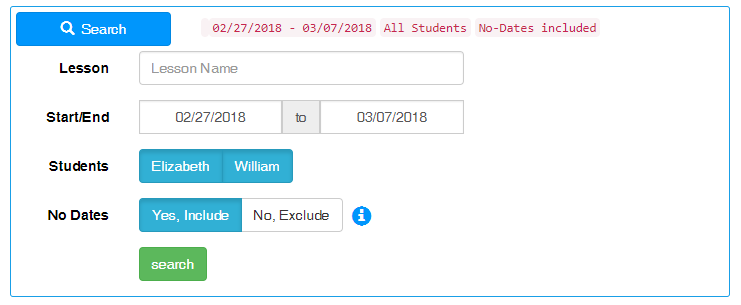 What is it? The Planbook Search options section now has the ability to search on lesson name.
How it works. Enter any portion of the lesson name in the Lesson box. Select any other appropriate inputs, and search.
What is this for? Many members create lesson names with special tags (e.g. "with mom", " as group", "needs review", etc.). This search option allows these members to quickly find specially named lessons quickly.
Calendar: Auto Hide Completed Lessons

What is it? The Calendar always displayed both completed and incomplete lessons with completed lessons in italics.  This feature now shows/hides completed lessons on the Calendar.
How it works. The Calendar will default to HIDING completed lessons. Select the Lessons Completed selector next to Display option and the completed lessons will appear.
What is this for? The Calendar becomes easier to read for remaining lessons to be completed.