Learn more about the My School Year Homeschool Record Keeping release that occurred on March 14, 2018. Because this release contains so many feature upgrades, this post is part 1 of a 2 part series. Click here for Part 2.
School Terms in Quarters, Semesters or Trimesters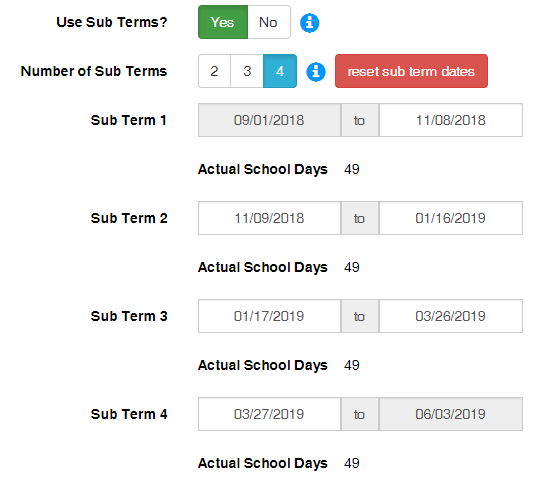 What is it? Currently, quarters, semesters and trimesters, or sub-terms, are handled by creating a new School Term and copying the student's classes. This new feature allows a single school term to be sectioned off into multiple sub-terms without the additional effort.
How it works. In the Term setup section, select Yes for the Use Sub-Terms option. Then select the Number of Sub-Terms: 2 sub-terms is a semester, 3 sub-terms is a trimester, and 4 sub-terms is a quarter. Finally, the system will evenly divide the start/end dates among all the sub terms, but you always have the option to adjust as necessary.
What is this for? Based on personal preference and/or governing authority reporting requirements, a student's overall school term needs to reviewed and reported in smaller time increments.

Bonus Features: The Sub-Term feature comes with amazing versatility.
You can create sub-terms for any past or current school years. Sub-Terms do not have to be pre-determined before the school term starts; you can create sub-terms for your past, present, and/or future sub-terms.
You can change the sub-term start and end dates at any time or use our "reset" button to evenly divide the sub-term dates into equal "number of school days". Don't worry, we take your scheduled days off into consideration.
The system will automatically adjust sub-term grades and attendance whenever the sub-term date ranges are changed.
Sub-Term grades can be reviewed in the Grades action link for each Class.
The overall grade for the class can still be overwritten and displayed on reports.
For this release, Report Cards have the option to display final grades only or sub-term + final grades.
Prefer not to use sub-terms? Simply select No to the Use Sub-Terms option and sub-terms will be removed. Add back in at any time!
Report Card Display Updates
What is it? Report Cards now have more display customization options.
How it works. On the Report Card options page, you can now control the following display options (hide or show):
Sub-Terms (including grades and optionally attendance days/hours)
Date of Birth
Grade Level (e.g. 1st, 2nd, etc.)
Term Dates
Page Numbers in footer
Dual Credit School Name
What is this for? Because of the variety of needs homeschooling families have, the Report Card display options have been developed to meet those needs.

System Adjustments
In every software system in the world, the need to make tweaks will always exist. Since some of you may have encountered these "un-documented features" (e.g. bugs), here is a list of items corrected.
Corrected typos in some of the report directions.
Moved "Signature Line" toggle option on Report Card to be under new "Display" section group.