My School Year Homeschool Record Keeping proudly introduces its new Refer-A-Friend Rewards Program where you can earn FREE months.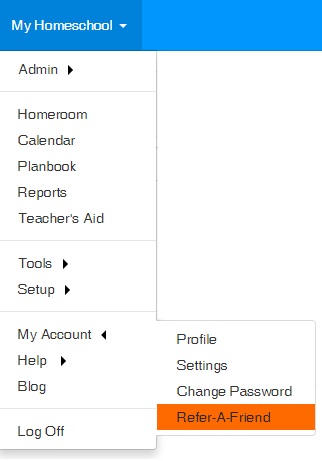 Get Organized For Free
Earn one free month of membership to My School Year simply by referring a friend. One month after your friend signs up for an annual membership, you earn one free month of service!
How To Earn a Free Month
Recommend MySchoolYear.com to your homeschooling family and friends.
When they sign up, they put your Email address in the Refer-A-Friend section under the My Account menu.
One month after your friend's annual membership is in effect, you earn a free month.
It's so simple! There is no limit to how many friends you can recommend. The more you spread the good news, the more months you earn for free.
Keep Track of Referrals
You are also able to track all of your friends who put your Email as their referral. Sit back and watch your membership get extended for FREE!!!

The Fine Print
You are only able to reward one Friend.
There is no limit to how many Friends can reward you.
Friend must purchase a 1 year annual membership.
If Friend returns (cancel+refund) their membership, your free month will be be revoked.
The free month offer only applies to the first year of your friend's membership. Your friend's subsequent membership years do not provide additional reward value.