Learn more about the My School Year Homeschool Record Keeping release that occurred on March 31, 2020.
Grades: Edit Percentages on View Grades
What is it? When viewing Grades, you now have the option to update the % of Grade value without having to edit class details.
How it works. Go to the Grades page. All grade type records now have ability to change the grade percentage. Enter in a percentage for each of the Grade Types, and then click Save.
Please note that if the screen is being filtered by a particular grade type, this option is not available. You must select View Grades from the class list or the View Grades button on the Edit Class Details screen to enable this new feature.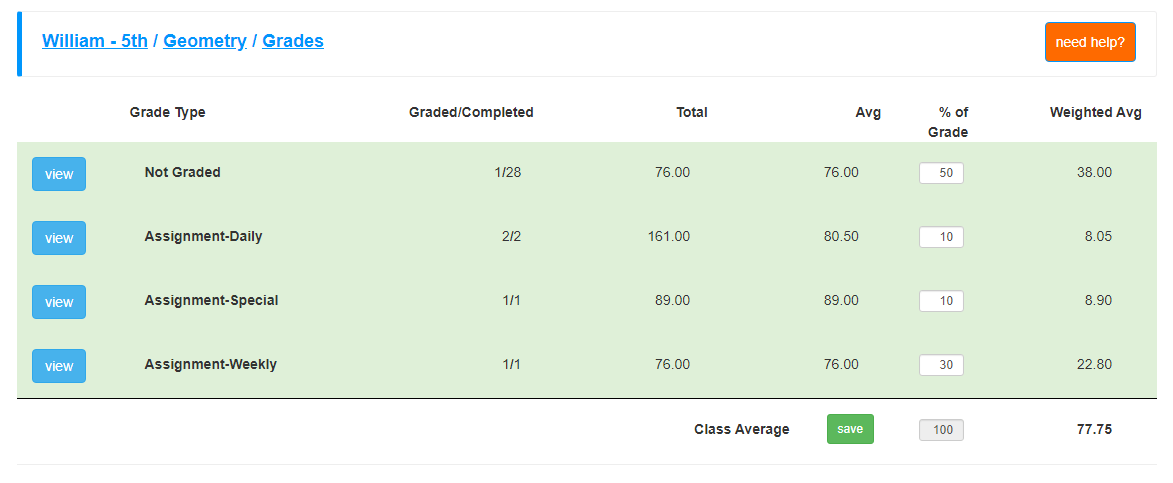 What is this for? Many members wish to change the grading percentages to make general adjustments and to try "what-if" scenarios. This feature allows those users to quickly update and manage the class' scoring system.
Calendar: Color Based Classes
What is it? Classes can now be configured to have a particular color. Then, when the Calendar displays classes (or lessons), you can toggle between the Student's color and the Class' color.
How it works. Go to My Homeschool > Calendar. Select the Classes option next to Colors. Classes and lessons will now appear in the assigned color of the class. By default, a random color is assigned to a class, but can be changed by going to Edit Class Details from the Class view. Non-class "types" become a neutral/generic color.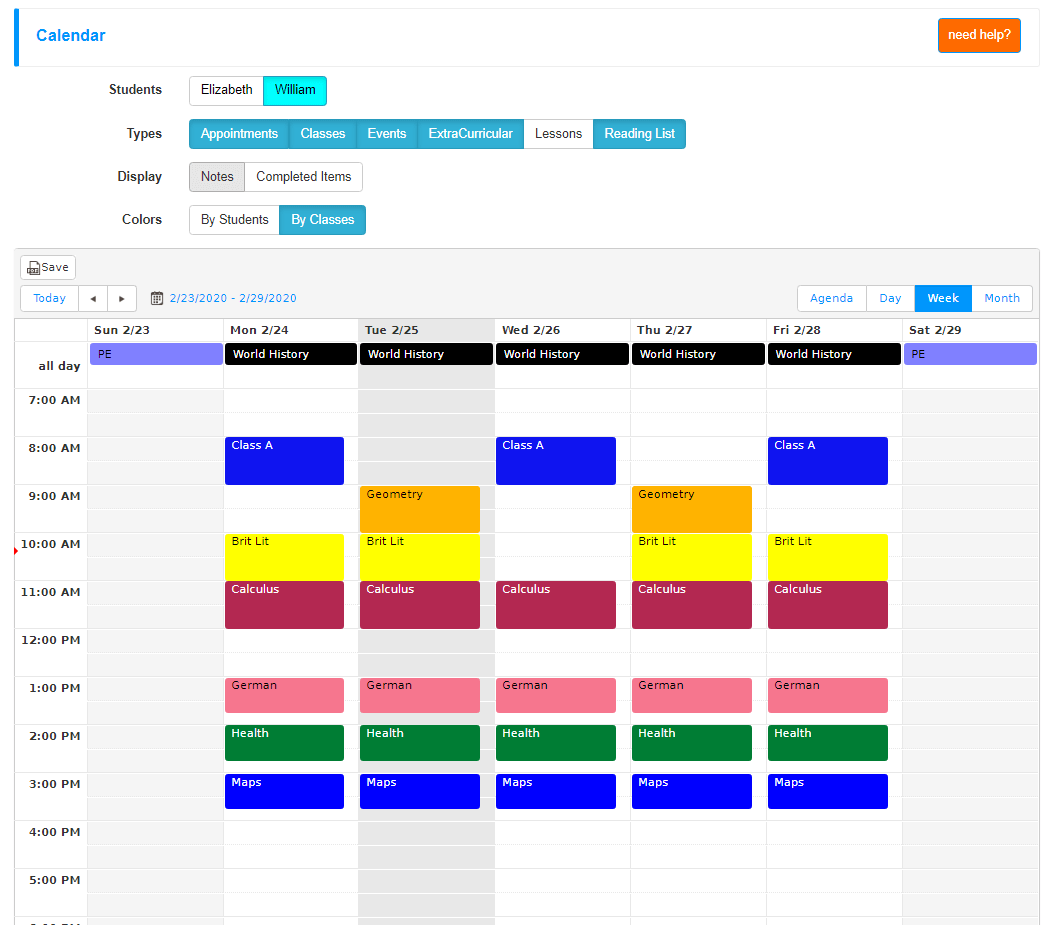 What is this for? Some members prefer schedules and agendas displayed visually by classes and not students. This feature allows users to toggle the display color grouping.
Class List: Grade Display by Color Coding
What is it? The Class List now displays with more visual context the student's performance for a given class.
How it works. Go to Classes under the Students menu. All grades are assigned a color for a given range:
White: No graded lessons
Bright Blue: 90-100
Light Blue: 80-89
Yellow: 70-79
Red: 69 or lower
What is this for? It is quicker to visually distinguish student performance based on color versus reading assigned class grade.
System Adjustments
In every software system in the world, the need to make tweaks will always exist. Since some of you may have encountered these "un-documented features" (e.g. bugs), here is a list of items corrected.
Added FAQ Help text for how to enroll a student into the next term.