Learn more about the My School Year Homeschool Record Keeping release that occurred on November 23, 2019.
Lessons: Download
What is it? Your lessons are now downloadable in CSV format.
How it works. Go to the Add/View Lessons screen. A new Download button should be at the top by other Lesson action buttons. Select Download and a CSV file with ALL lessons will be downloaded onto the device/computer.

What is this for? Many members wish to manipulate their lessons in a variety of ways. Also, this format allows for easier transferring and archiving of lessons outside of the My School Year application.
Calendar: Display Classes
What is it? The Calendar now displays students' classes.
How it works. Go to My Homeschool > Calendar. Select the Classes option next to Types. Classes will now appear in the any of the Calendar views. By default, the Classes option is not selected while the Lessons option is. This keeps the calendar "cleaner" and less likely to cause confusion between "class" and "lesson" type entries. Clicking on the class name will display the Class Details screen.
Also, for student logins, if the student is allowed to view Lessons (see My Homeschool > Setup > Students), then the student can view class and class times on the calendar. However, students are NOT allowed to click and drill into the calendar entry in order to view class details.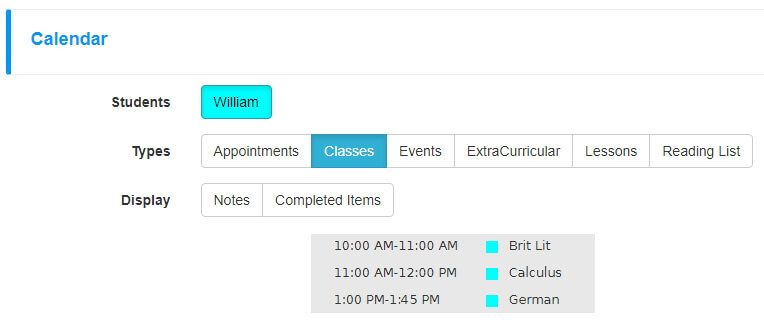 What is this for? Some members educate with a class time structure and not plan specific lessons. The class option also allows you to view placeholder classes that might be from a co-op, community college, and/or other types of classes (e.g. chores, daily sports/music practice, etc.)
Account Settings: Time Zone
What is it? Your account settings now has an option to set your local timezone.
How it works. Go to My Account > Settings. Select your local time zone and select Save. When the daily and weekly lesson plan reminder emails are processed, the system will adjust the timing appropriately so that you receive your emails on a timely basis. The default time zone is Central Standard Time (Chicago/Dallas).

What is this for? Our members outside the United States, especially in Australia, do not receive their emails until midday because of current processing logic and timing. The time zone setting will now account for this time disparity and send the appropriate daily/weekly email information.
Account Settings: Weekly Email Day of Week
What is it? Your account settings now has an option to select which day of the week you wish to receive your weekly email.
How it works. Go to My Homeschool > My Account > Settings. Select which day of the week you wish to receive the weekly emails and select Save. At the start of that day of the week you selected, you will receive your weekly lessons.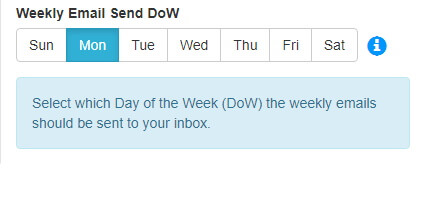 What is this for? Many members plan and prepare for school differently so the need to send out weekly emails is different for each family. By allowing each member to customize their weekly email, members can better organize their time and school.
System Adjustments
In every software system in the world, the need to make tweaks will always exist. Since some of you may have encountered these "un-documented features" (e.g. bugs), here is a list of items corrected.
When emails failed to send, the system did not retry to send out and thus some members missed their lessons while others received it. The system now attempts to retry multiple times before failing. Coupled with the enhancements above and the notification systems new logic, even if failures occur, the system will attempt to send out over the course of the day.